"If the 20th century was about the quest for knowledge, the 21st century is about experience."
As a devout reader of physical books and someone whose idea of heaven is loitering around libraries and bookshops I'm somewhat surprised that my career as a writer is being defined by digital storytelling. But it's a contradiction I embrace due to the infinite opportunities of expression it affords.
Writing serves many functions. On one level it acts as a form of therapy that enables individuals to make sense of both themselves and the environments they inhabit. Writing is also about control in that it enables an individual to be the master of the worlds they create. Digital is about being a master of galaxies and entire solar systems and so naturally appeals to the vanity of someone deluded enough to think they have something worthy to say.
Writing is also about experimentation, placing the author in the minds of characters and situations to try to better understand what it is to be human. Experimentation is at the heart of creativity and digital enables a writer to think themselves not only into the mind of a character but into how the character exists across mediums and digital platforms, all of which come with their own grammar.
I fell into digital storytelling because an opportunity arouse and I took it. I haven't looked back since and will be talking about this journey as part of the Being Human humanities festival on Saturday 14 August, of which Nottingham is one of five named 'creative city' hubs. Last year Paul Fillingham and I created Being Arthur, the first ever 24 hour Twitter presentation of Saturday Night and Sunday Morning for the inaugural Being Human festival and this year I want to share a little bit of my journey with the hope that it may help others who are thinking of giving literature a digital makeover.
Whether we like it or not, digital is changing our experience of reading and our understanding of literature. No longer limited by the confines of the physical page, writers can now present content across media platforms as well as offer multiple narrative paths into the text to suit the needs of every type of reader. I'll be showing how I've done this with the Sillitoe Trail (which was voted in the top ten of content for BBC/Arts Council multimedia platform The Space) and Dawn of the Unread, a graphic novel that explores Nottingham's rich literary history (and won the Teaching Excellence Award at the Guardian Education Awards in March).
I'll also be sharing experiences on two other projects I'm currently putting together: Untold Stories, a multi-collaborative graphic novel that will give voice to "The lives that dare not speak their names" and addresses issues of censorship and persecution around the world. This is planned for 2016 and will follow the format of Dawn of the Unread but this time will combine philosophical arguments with direct calls to action.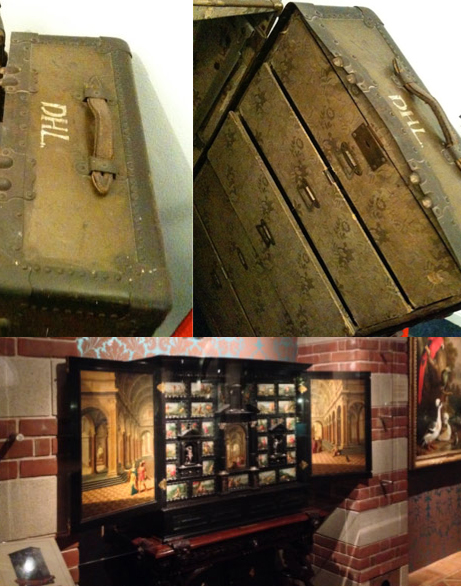 The DH Lawrence Memory Theatre is pencilled in for some time in 2017. DHL embarked on a journey of self-discovery known as his 'savage pilgrimage' which took him across the globe. Accompanying him on his journey was a travel-trunk which had various compartments and drawers. Paul Fillingham and I are hoping to retrace this Savage Pilgrimage, explore Lawrence's significance as a writer, and develop his personalised travel-trunk as a 'Cabinet of Curiosity' or Memory Theatre.
Memory Theatres were filled with rare and expensive artefacts and once used by the aristocracy to convey cultural capital and status. Our Memory Theatre will journey in both physical and digital form. It will be a beautifully crafted work of art in its own right, to be explored and admired, stopping off at key locations. The drawers will contain real objects including; documents, poetry, paintings and essays, produced by a variety of creative practitioners. Some drawers will house interactive touch-screens, offering a glimpse into the digital heart of the Memory Theatre.
The digital component will be available as a web-service across various media platforms. Users will virtually 'open' drawers with content geared towards the capture and sharing the users' experience. As the Memory Theatre travels in physical and digital form, its aesthetic and emotional value will grow, accumulating its own savage history and provenance.
We may very well use aestheticodes (QR Codes with a lot of slap) as a means of recording the journey. If you want to learn more about what these are then catch the talk before mine (10.30 – 12.30) at the Writers' Studio.
The aim of the talk is give an insight into issues involved in putting together a digital storytelling project: audience, partnerships, funding, narrative, platforms, creative 'production line'. It will be followed by a Q&A and the opportunity for other artists to discuss their own ideas for digital projects.
Digital Storytelling: When, why, how? Nottingham Writers' Studio 1-2 pm, 14th November.
To register for this event please follow this link.